CARF International Orientation Invitation
As you are aware, Clements is a proud CARF-accredited organization!
Maintaining accredited certification assists Clements' efforts to improve the quality of our services and meet internationally recognized standards. 
More information about CARF is available here. 
Clements Centre has five times received three-year accreditation certificates from CARF, the longest possible.  For the first time, our survey will occur through the new Digitally Enhanced Process over three days October 26 through 28. 
You are invited to attend the virtual orientation session at 9 am Wednesday, October 26.  At the orientation, you will have an opportunity to meet the three-member survey team, hear from them their intentions for the three days and have an opportunity to ask any questions you may have. 
If you would like to attend the orientation session, please email us at info@clementscentre.org and the link will be provided.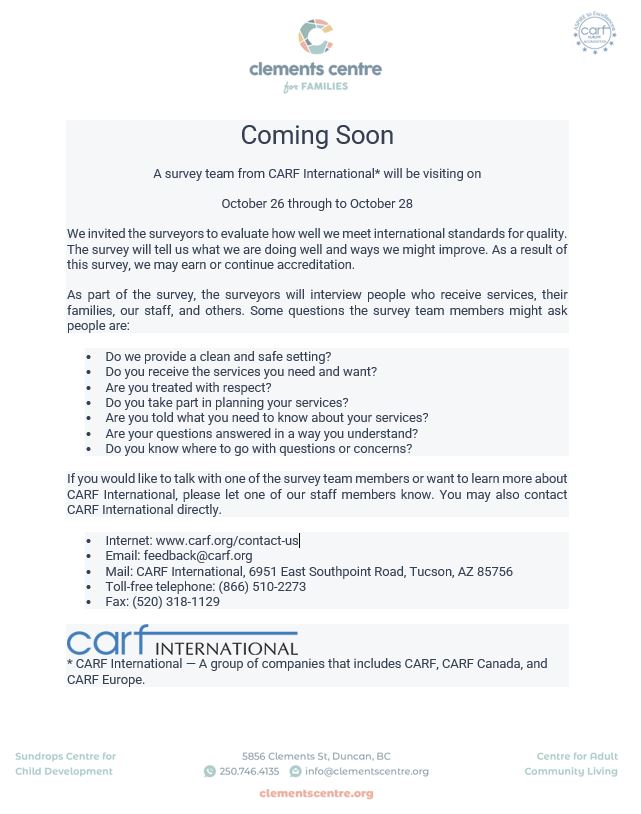 https://www.clementscentre.org/wp-content/uploads/2023/07/CARF-Poster-1.jpg
814
641
caorda
https://www.clementscentre.org/wp-content/uploads/2023/07/Clements-Centre-logo-horizontal.svg
caorda
2022-10-06 20:13:26
2023-08-10 16:43:56
CARF International Orientation Invitation